The market for Polyethylene pipelines is growing exponentially year by year and so the requirement for Welding equipment. Wuxi Yuda, with more than 15 years experience in mannufacturing of plastic Welding Equipment, 60% of polyethylene welders export overseas. Recently our biggest workshop fitting welding machine up to 2600mm, Plastic angle Cutting Machine up to 2600mm and 2600mm Hdpe fusion welder exported to Korea market.
In addition to the wide range of standard machine, we produce special hdpe pipeline welding machine for the specific needs of our customer.



Product Description:
1.Suitable for butt fusion welding of plastic pipes and fittings made of PE,PP, and PVDF in construction site or workshop.
2. Consists of basic frame, heating plate, planing tool, support (for planing tool & heating plate) and hydraulic unit
3. Removable PTFE coated heating plate with separate temperature control system.
4. Electric milling cutter with double cutting edge blades.
5. Support for heating plate and planing tool.
6. Low starting pressure ensures reliable welding quality of small pipes.
7.The use of high quality Aluminum pouring casting allows for lower weight without compromising strength and performance, while providing extra strength when welding out-of-round pipe
8. Hydraulic pump with controls, and quick release hoses. Includes countdown timers for heating and cooling phases.
9. High-accurate and shockproof pressure meter indicates clearer reading.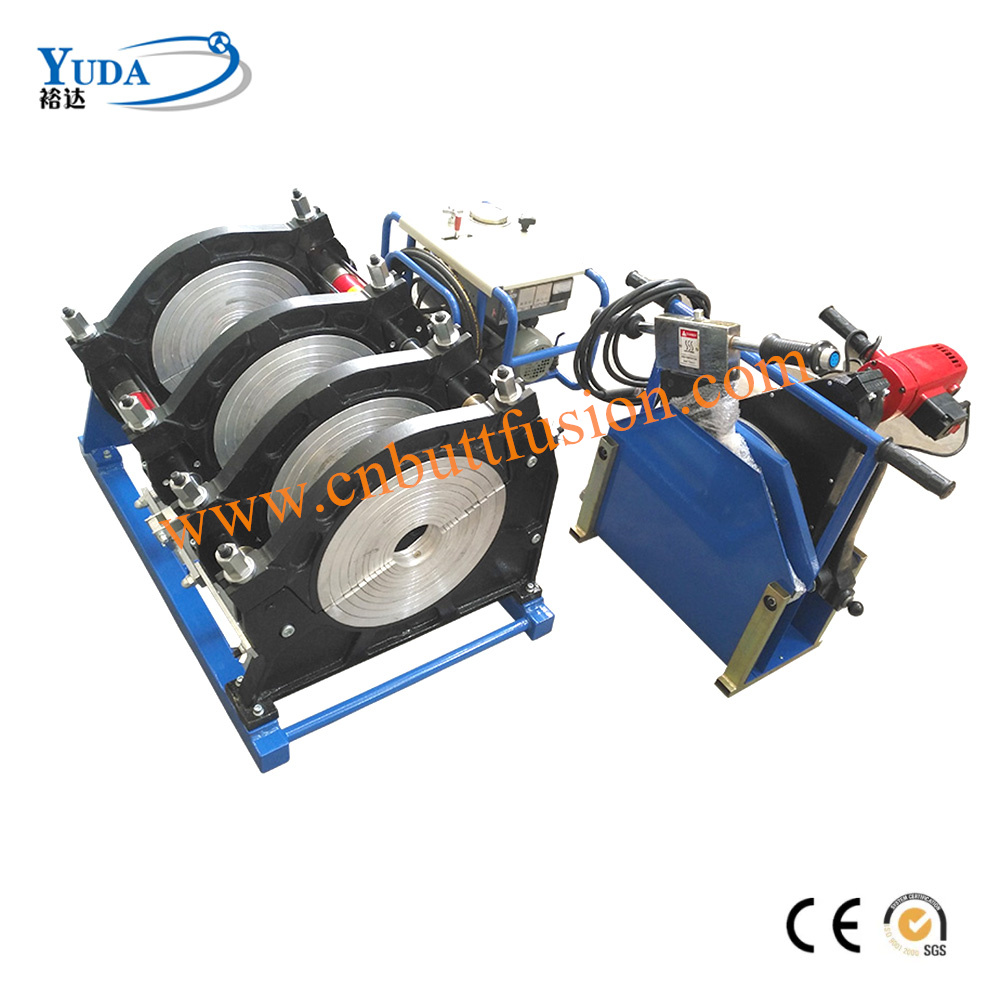 Product Parameters
Model

RDH160

RDH250

RDH315

RDH355

Welding ranges (mm)

63. 75. 90. 110.125. 140. 160.

90.110.125. 140. 160.180.200.225. 250

90.110.125. 140.160.180.200.225.250 . 280. 315

160.180.200.225 .250 . 280. 315.355

Heating Plate Max. Temp.

270ºC

270ºC

270ºC

270ºC

Temp. Deviation in surface

<±5°

<±5°

<±5°

<±5°

Working voltage

220V 50Hz

220V 50Hz

220V 50Hz

220V 50Hz

Heating Plate Power

1.0 KW

2.1

KW

3.1

KW

3.5 KW

Planing Tool Power

0.85 KW

1.36

KW

1.36

KW

1.36

KW

Hydraulic unit Power

0.75 KW

0.75 KW

0.75 KW

0.75 KW

Total Power

2.6KW

4.21 KW

5.21 KW

5.61 KW

Pressure adjustable ranges

0-6MPA

0-6MPA

0-6MPA

0-6MPA

Net Weight

107 KGS

143 KGS

210 KGS

209 KGS

Gross Weight

153.5

KGS

205KGS

300 KGS

290KGS

Package

Cases

3 Plywood Cases

3 Plywood Cases

3 Plywood Cases

3 Plywood Cases

Volume

0.58M³

0.75M³

1.11M³

1.18M³
Certifications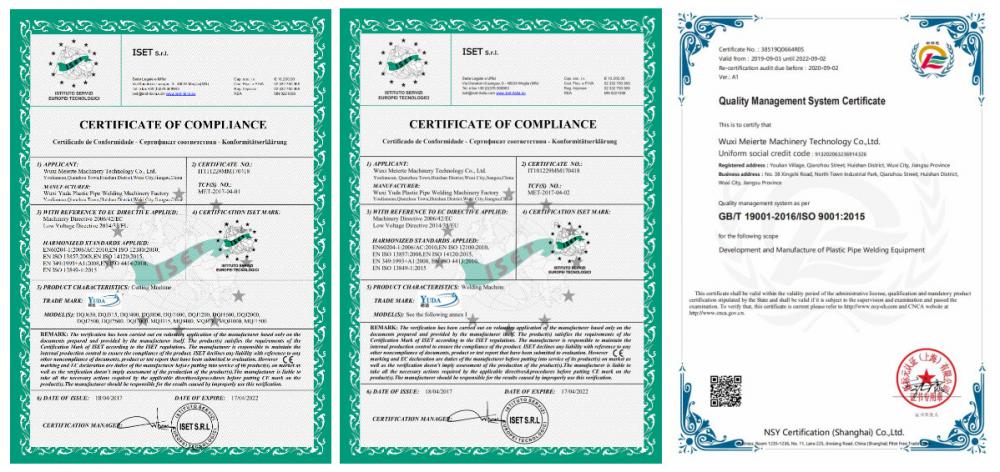 Plastic Pipe Fusion Machine Testing
1. RDH315 HDPE Piping Welding Machines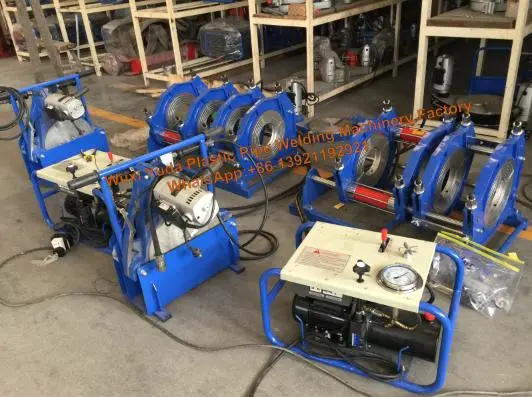 2. RDH355 PE Heat Fusion Machines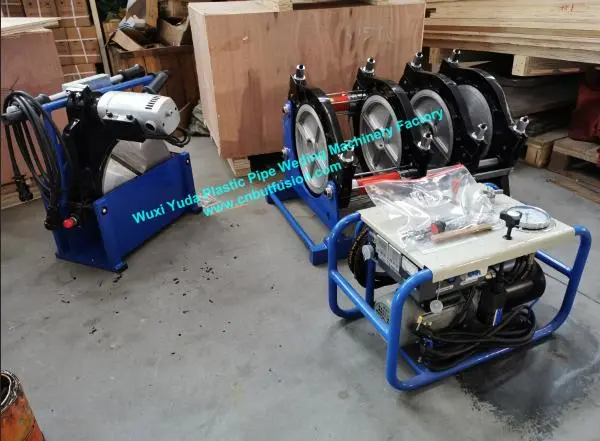 3. HDPE Pipe Field Welding Machines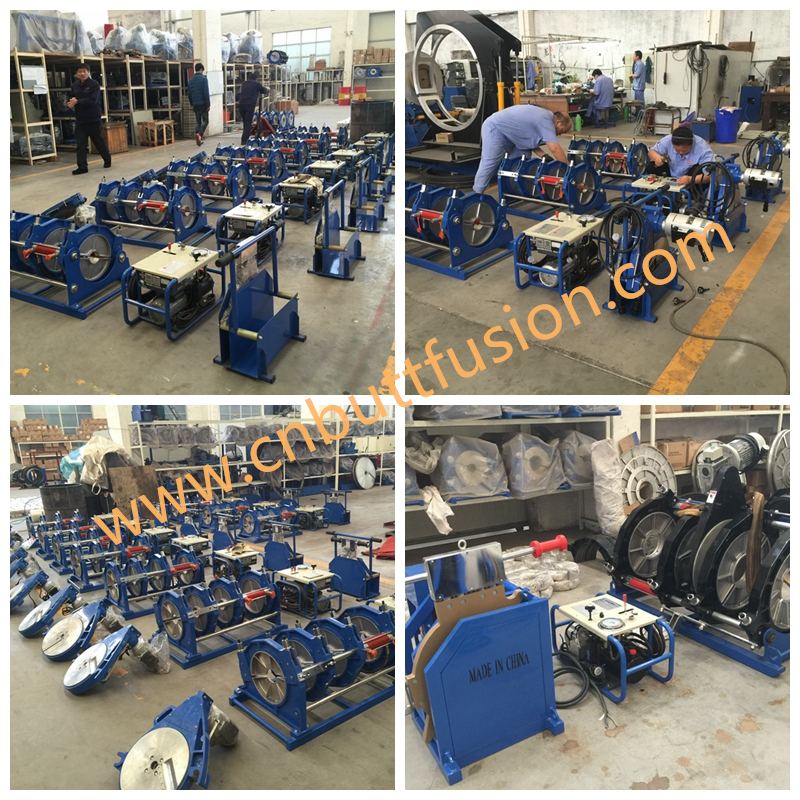 Wuxi Meierte Machinery Technology Co.,ltd (which is the same company as Wuxi Yuda Plastic Pipe Welding Machinery Factory are the same company) is devoted to plastic welding technology and research, butt fusion machines design, poly welders manufacture, pipe fusion machines sales, butt welder training and maintenance of plastic pipe welding equipment, providing the customers with full and best service.

Our factory has a senior technical team engaged in plastic pipe fusion welders research and design of welding equipment. The guideline of our enterprise is that customer`s need is our pursuit, the product quality is the life of the enterprise, enterprise's aim is to be world-famous.

Our product category falls into RGH series multi-angle PE fitting welding machine, DQJ series angle cutting saw machine, RDH series Polyethylene welding machine, Controlling methods include hydraulically-controlled and automatically( numerically)-controlled. With the great efforts of all the staff, all types of machines will be gradually be becoming perfect. At present, the following models are available: RDHS160 and RDHS200 manual butt fusion machines, RDH160~RDH2000 Hydraulic HDPE pipe fusion machines , RGH315~RGH1200 Workshop fitting fabrication of plastics, DQJ315~DQJ1200 plastic pipe cutter band saw machine, RDH-JL160~RDH-JL1600 Pipeline Welding machine (with data logger and printer function). RDH-A series Full-Automatic Plastic Welding Machine , RGH-A Series CNC workshop polyethylene fabrication machines , DQJ-A Series CNC Band Saw for plastic pipes. Many years of growth enables our company to accumulate rich experience in technology development, We have set up good and wide business relationships with domestic and foreign scientific research organization, production factories, gas and running water companies, and professional construction companies. Reliable technology and talented staff has laid a firm base ground for our company's fast future development. In the year of 2003, our machine passed the ISO9001 and ISO2000 quality system certification, and we have got the CE certificates, too. it provides strong guarantee for the continuous quality up-grading of our products. Our Enterprise will wholeheartedly welcome numerous customers at home and abroad to visit us for guidance and business discussion.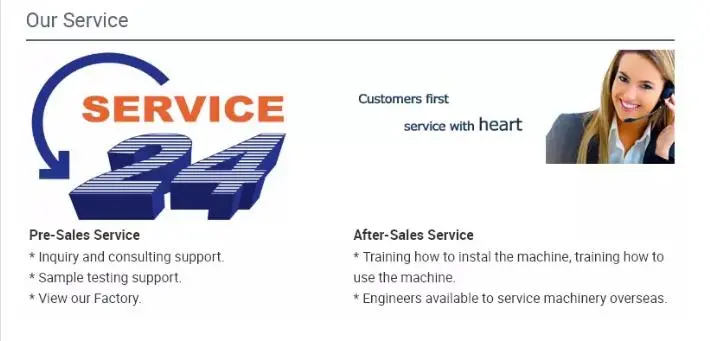 Q: Are you trading company or manufacturer ?
A: We are manufacturer
.
We make from Aluminum parts to whole machines by ourselves. For example: clamps, heating plate, trimmer casting, inserts, solid clamps.
Q: How long is your delivery time?
A: Generally it is 3 days if the machines are in stock. If big worshop fitting machine or special machine, it will take about 15 to 40 days. Most mahcine have in stock
Q: Can you design and produce special machines according to customer requirement ?
A: Yes, we have strong technical
team
,
all parts are designed and manufactured by ourselves.
Q:

How about the after-sale service?
A: We always provide high quality products and workable price for every client and have won the confidence and approval. 24 hours after-sale service is here.