Complies with GB / T 5118 E5515-1CM
NB / T 47018.2-2011
Description:
Pressure Welding equipment with steel electrode R307 is a low hydrogen sodium type pressure coating equipment dedicated Cr1% -Mo0.5% pearlitic heat-resistant steel electrode. The use of DC reverse, can be all-position welding.
use:
For the pressure equipment operating temperature of 520 ℃ below the pearlite heat-resistant steel welding, such as 15CrMoR, 14CrlMoR and so on.
| | | | | | | |
| --- | --- | --- | --- | --- | --- | --- |
| C | Mn | Si | P | S | Cr | Mo   |
| 0.05~0.12 | ≤0.90 | ≤0.80 | ≤0.030 | ≤0.030 | 1.00~1.5 | 0.40~0.65 |
| 0.065 | 0.65 | 0.40 | 0.007 | 0.017 | 1.15 | 0.54 |
Deposited metal mechanical properties (675 ~ 705 ℃ × 1h)
| | | | |
| --- | --- | --- | --- |
| Item | Rm (N/mm2) | ReL/Rp0.2 (N/mm2) | A (%) |
| guarantee | ≥550 | ≥460 | ≥17 |
| result | 610 | 520 | 25 |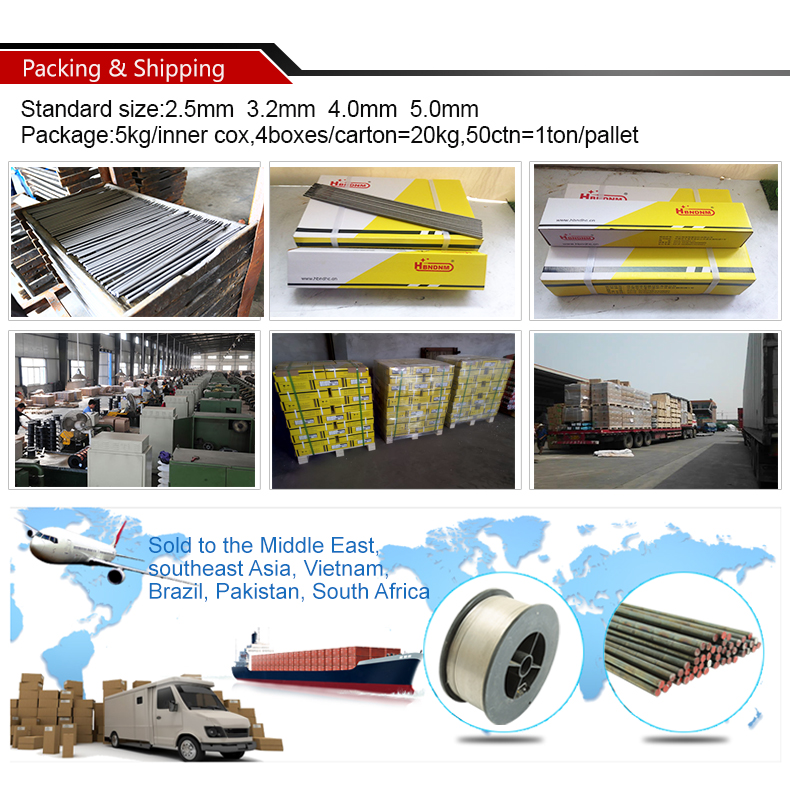 Our service:
1.Best price offer
   sincerely hope build up a long term cooperation relationship,offer you the most competitive price
2.On-time delivery
   Time is gold,once order confirm,we arrange it ASAP by air or train or ship
3.Strict quality control
  we arrange technicans to inspect products at random time,which promise superior quality 
4 Accept OEM packing
  you can send us your sample package
5.Smaple free
6.The most comprehensive and the most attentive service
   we have a professional team to solve all problems